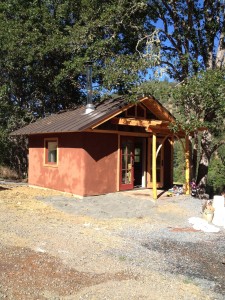 Flying Hammer Productions 2015 Summer workshops!
July 19th thru the 25th
Build a straw bale studio from the ground up! Learn the basics of load bearing straw bale construction at the beautiful By George Farm and Creamery outside of Jacksonville, Oregon. We will start with an earth bag foundation to build a 200 sqft. load bearing straw bale studio with a loft and porch. Topics to be covered via hands on job site instruction and evening presentations: foundations, straw wall systems, framing and earthen plasters and floors. This workshop is great for people with or without construction skills who have ever wanted to build their own straw bale homes or studios. Instructor Lydia Doleman has 18 years of straw bale and carpentry experience and loves to help people not have to learn the hard way!
Located in the charming Applegate Valley, nestled in the Siskiyou mountains, one can enjoy learning in a beautiful farm setting with three delicious locally grown meals provided a day. On site camping, swimming, wifi and phone are available as are the nearest pub and bakery (both of which boast natural wall systems- yes, this place is utopia!) within walking distance.
Cost: $700 per person ($600 if registered by march 1st) group discounts for groups of 4 or more