Workshops 2014
Women's  Natural Building Intensive
Be empowered and learn the skills to build your own home.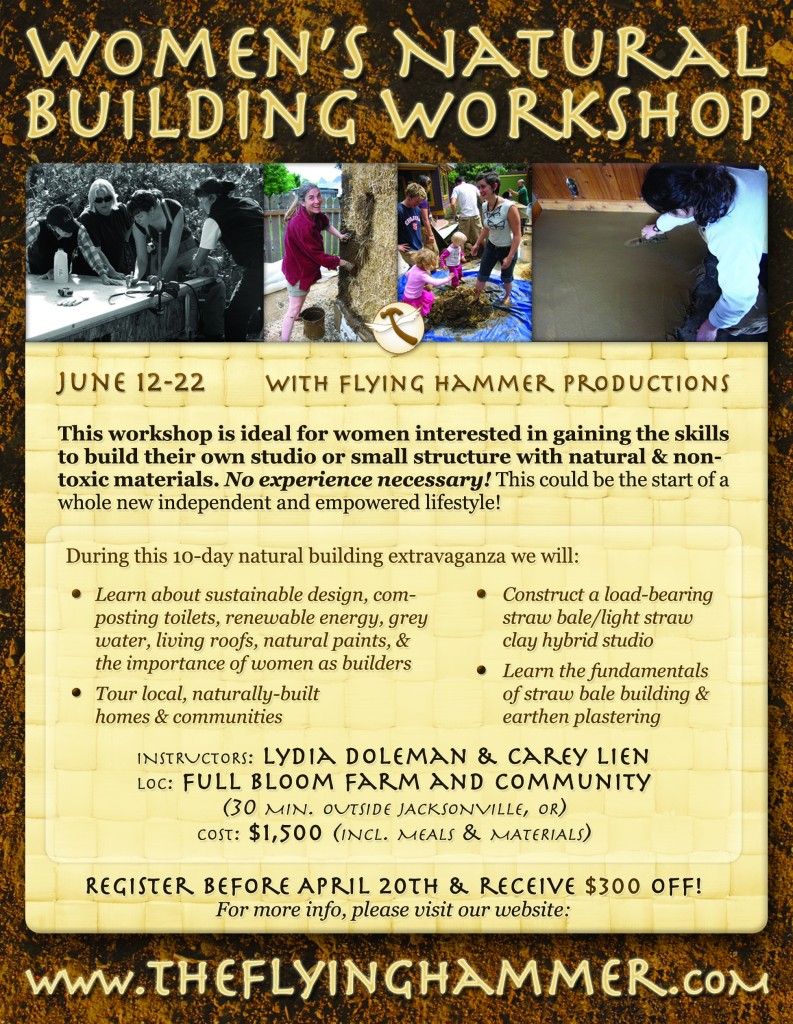 Date: June 12 – 22
Location: Full Bloom community land near Little Applegate Valley, 30 minutes outside of Jacksonville, Southern Oregon. Set amidst the beautiful forested Siskiyou mountains with snowy Dutchman's Peak in the distance and Yale Creek passing through.
The Workshop: In this 10 day natural building workshop we will construct a straw bale/straw clay hybrid studio from the ground up. Participants with learn the fundamentals of straw bale building, straw clay construction, cob and earthen plastering and floors. Hands on learning will also include carpentry from walls to roof systems. This workshop is ideal for anyone interested in gaining the skills to build their own home or small structure. No experience necessary!
Food: Three amazing, delicious organic vegetarian meals per day are included. Greens and most of the fresh produce is grown on the land.
Amenities include: Glorious straw bale common building with bakery, phone and wifi. A straw clay bath house with community showers, sauna, tub and pond. On site camping available.
Instructors: Lydia Doleman and Carey Lien will be holding the workshop together, ensuring individual attention for all attendees.
Cost: $1500. Inquire about group discounts. Last chance to register!
Contact Ryan Ginn to register: soilgrower@gmail.com
Bios:
Lydia Doleman is a natural builder and activist currently practicing in Southern Oregon. She has been building since she first stole her sister's legos at the age of three. For the last thirteen years her work in the straw bale and natural building field has been a culminating point for ecology, art and social justice.
Carey Lien is a natural builder and carpenter based out of Oregon. She started her carpentry career in Minnesota but soon was introduced to natural building and relocated to Oregon to learn the art of natural building. She fell in love with the various types of clay and straw construction styles and enjoys sharing all the knowledge she has learned over the years. Carey has been working between the worlds of conventional construction and natural building for 10 years
Flying Hammer Productions is Lydia's Oregon-based natural building construction company focused on pushing the bounds of affordable and energy efficient housing, training people and communities in creating their own natural spaces and infusing the dreary urban fabric with structures that reflect beauty, sustainability and community.
INTERESTED IN HOSTING A WORKSHOP? Go to 'Contacts' and Inquire!