Workshops 2014
Women's  Natural Building Intensive
June 12th thru Jun 22nd
In this 10 day natural building extravaganza we will construct a straw bale/strawclay hybrid studio from the ground up. Participants with learn the fundamentals of straw bale building, straw clay construction, cob and earthen plastering and floors. Hands on learning will also include: carpentry from walls to roof systems.   This workshop is ideal for anyone interested in gaining the skills to build their own home or small structure. No experience necessary!
Three amazing and delicious vegetarian meals per day included.
Instructors: Lydia Doleman and Carey Lien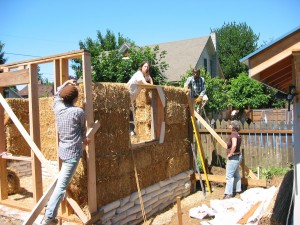 Location: 30 minutes outside of Jacksonville, Or
Amenities include: glorious straw bale common building with bakery, phone and wifi. A straw clay bath house with community showers,tub and pond. On site camping available.
Cost: $1500.  Inquire about group discounts.  Register soon!
Contact Ryan Ginn to register soilgrower@gmail.com
INTERESTED IN HOSTING A WORKSHOP? Go to 'Contacts' and Inquire!