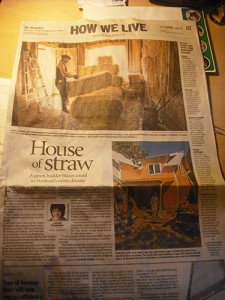 February 2007
Shelter and The Practice of the Local
by Lydia Doleman
Web reproduction of article
Buy archive no.63 at Permaculture Activist
Barrett Ecological
barrettecological.com
Barrett Ecological is a Portland, Oregon based Design/Build firm dedicated to providing ecological landscape solutions for residential and commercial properties using the principles of permaculture.
City Repair
cityrepair.org
City Repair is an all-volunteer grassroots organization
helping people reclaim their urban spaces to create community-oriented places.
Communitecture
www.communitecture.net
Dignity village
www.dignityvillage.org
ECO TRUST
www.ecotrust.org
Greener good
www.greenergood.com
House Alive!
www.housealive.org
Kleiwereks
www.kleiwerks.com
The last straw
www.thelaststraw.org
Lomakatsi
lomakatsi.org
To organize and implement community based ecological restoration projects through education, vocational training, specialized workforce development and the utilization of restoration by-products, encouraging the recovery of ecosystems and the sustainability of communities, cultures and economies.

Lost Valley Education Center
www.lostvalley.org
Natural building network
www.naturalbuildingnetwork.org
Oregon Department of Kick Ass
www.odoka.com
Oregon Tradeswomen Inc.
www.tradeswomen.net
Our united villages
www.ourunitedvillages.org
Peoples coop
www.peoplesfoodcoop.com
Portland Peak Oil
www.portlandpeakoil.org
Portland Permaculture Institute
www.portlandpermaculture.com
The Rebuilding Center
www.rebuildngcenter.org
Rose City Mortgage
www.rosecitymtg.com
Solar Energy International
www.solarenergy.org
Sukita Reay Crimmel
www.sukita.com
Sukita Reay Crimmel is a well known Portland natural builder
Watermelon web works
www.watermelonwebworks.com